NINSKI Beauty Salon in Crystal Palace is proud to offer a full range of NINSKI spa treatments and natural skincare products. Our facials are 100% Vegan and Cruelty-Free using our own skincare products which are available to purchase here. 
Turmeric works as an antiseptic with anti-inflammatory properties. This enzyme-boosting facial slows down cell damage and reduces acne scarring.
A balancing facial that adds moisture to drier complexions and absorbs grease from oilier skin. Great for calming sunburn, it can also help to reduce dark circles under the eyes.
Full of vitamin E and linoleic and oleic fatty acids, this argan facial calms hyperpigmentation and soothes any complexion worries. A natural healing agent, argan oil is known to help prevent skin cancer and melanoma.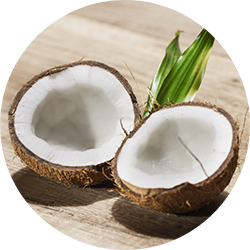 Coconut oil is great for hydrating dry skin and increases skin elasticity. Packed with Vitamin E and A, it encourages collagen production and acts a natural sun screen, leaving you rejuvenated.
Spirulina is perfect if your skin is feeling dull. It encourages the shedding of dead skin cells and is packed full of proteins and amino acids to help fight of blackheads.
A quick pick-me-up for tired skin.
After a consultation and full facial analysis with our therapist, you can choose the techniques, machines and ingredients for your ideal facial.
This facial is for skin that has been neglected for a while. NINSKI VIP Facial will kickstart your skincare regime by giving you a full facial overhaul. This treatment combines a series of elements to target both the surface and deeper layers of your skin, starting with a deep cleansing, steam extraction to remove dead cells and impurities. Next, we use microdermabrasion to brighten the complexion or dermaplaning to remove peach fuzz hair. Micro-needling follows to tighten the pores, reduce fine lines and tone the eye area and to finish, an LED mask is applied to complement the aims of your facial. Ice globes close the pores to retain the impact of your VIP treatment.
NINSKI ANTI-AGEING FACIAL
We cleanse your skin using hot mitts, giving you a facial massage that lifts and stimulates circulation. A pre-peeling treatment is available for fine lines – please be aware this can cause some discomfort. Then a gold jelly mask is used to restore radiance and vitality to your skin.